How to Get Ready for an Erotic Outdoor Boudoir Photo Shoot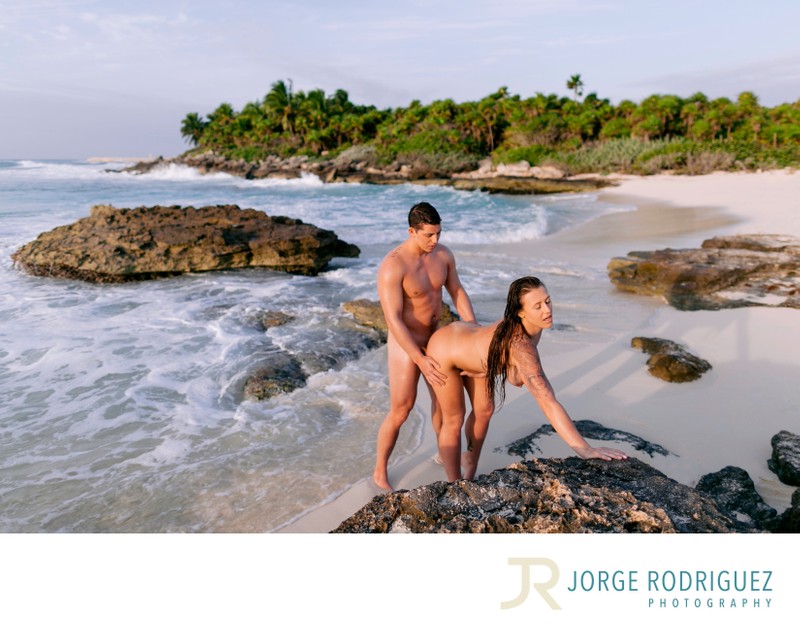 Beach Boudoir sessions are all about seeing yourself in a new light. These photos highlight your natural beauty without make-up, clothing, accessories, or inhibitions.
They are an invitation to surrender to the beauty of the Mexican Caribbean.
A destination boudoir session is both exciting and daunting.
To help you make your photo session a success without the stress, I'm excited to share a quick checklist for your boudoir bag and an overview of how to prepare for your session so you are ready to enjoy a day celebrating your beauty.


Here are some answers to your most common questions and a few things to remember when planning and prepping for photo day.
Prepping for the erotic photo shoot…
4-6 Weeks Prior
Planning an intimate and steamy photo session is almost as exciting as the photo shoot itself. But preparing for a trip and a photo shoot can be hectic if you don't prepare ahead of time. Having a loose timeline will help you avoid stress and enjoy the adventure of doing Boudoir.
First, since you're traveling to another country, ensure you have everything you need for your trip, including updated passports, flights, hotel reservations, transportation, and anything else you may need to travel. Once that's settled, it's time to prep for your shoot.
Choosing your Destination Boudoir Photo Shoot
One of the most essential points on your list is to discuss with me, your photographer, the locations where we will have your photo shoot - whether that's a mystical cenote, a secluded beach, or a private villa. This will let you know the distance you must travel to our meeting point, and you can start booking a rental car, shuttle transportation, or a taxi from your Resort.
The two preferred locations are secluded beaches overlooking the Mexican Caribbean.
The first option is Playa del Amor in Playa del Carmen. The only access to this location is a 50-60 minute walk on the beach, depending on your physical condition and fitness level. If you are not used to long walks, you may have to prepare at home by incorporating at least one long walk per week. It can be challenging to walk on soft, puffy sand, especially during the high tide before sunrise.
The second location is one of the secluded beaches of the Sian Ka'an Biosphere Reserve. The location opens at 7:00 am. The access fee is approximately 5 to 10 USD per person. This pristine location is close to Tulum, 109 km from Playa del Carmen. It takes about two hours and a half to arrive. This gorgeous location offers a variety of backgrounds including a deserted beach, lots of greenery, and a lagoon. There is some walking and additional driving required to find the best spots.
What should I bring to my Outdoor Boudoir shoot?
When packing for your photo shoot, remember we will be shooting outdoor for a few hours, having fun, and exploring your sensuality. Here are some essential items to bring:
Hairbrush to style wet hair

Clips or hair ties for windy days

A small hand mirror

Organic or natural oil for your skin

Mosquito repellent

Lube, if applicable

Beach towel or robes

Light snacks

Bottles of water

Beach hats for sunny days

Toilet paper

Wet wipes


3-5 Days Prior
The photo shoot is almost here! If you follow your timeline, traveling to your destination should be a breeze. Whether you arrive a couple of days before the photo session or one day, that's up to you. Think about how many days you need to wind down from travel day and plan around that. Doing this will ensure you're well-rested and relaxed for your shoot.


When should you shave before a boudoir?
Depending on your own body, plan to wax or shave accordingly. If you arrived at the destination with a cushion of days, consider having a wax at your hotel or resort spa services. Remember to stay hydrated and moisturize!
For men, please consider a haircut, and trim your beard and nose hairs properly. Shaving, trimming, or waxing the genital area is optional.
Should I use tanning sprays or tan before the shoot?
Don't use tanning sprays or lotions. These formulas create an orange glow that cannot be retouched once the photos are taken. If you arrive at the destination a couple of days before your photo shoot, avoid getting too much sun. You don't want to look sunburned! And remember to keep drinking water.
1-2 Days Prior
Can you feel the excitement? Your photo shoot is just a couple of days away!
If you are doing a Beyond Boudoir session, please avoid having sex for 2 + days previous to the photo shoot for better performance.
Get a fresh manicure and pedicure with neutral colors. If you're already in your resort or hotel, visit their on-location salon.
A great thing to do with your partner before the shoot is to exfoliate /scrub your whole body and face. Be gentle in certain zones and don't forget the hands and feet. After that, please moisturize yourself, including your lips.
Please avoid coloring your hair one or two days before. Marks on the forehead, sideburns, and ears are difficult to photoshop.
Even if you're staying in an all-inclusive resort in Cancun or Riviera Maya, avoid alcohol and seafood. Drink plenty of water - more than you would drink at home - to keep you and your skin hydrated.
Pack your boudoir bag the night before, and make sure you have everything.
Since we'll be out in the sun, be sure to pack your sunscreen and, if necessary, your favorite moisturizer to feel amazing in your skin.
And remember to keep drinking water! Dehydration is common due to the tropical weather. Stay well hydrated before and during your photo shoot. Plus, hydration will make sure you feel and look amazing.
Relax, get enough sleep, get ready to be pampered, and feel amazing!
Boudoir Session Day
It's photo day!
To avoid skin impressions, wear loose-fitting clothing and undergarments.
Remember to eat a light breakfast such as fruit or a granola bar, and bring a small snack to the shoot if you feel like you might get hungry. Make sure you're satisfied but not bloated.
We will be walking on the sand, water, and sharp rocks, so wear sturdy sandals for this adventure.
Please update me through text or WhatsApp messages on the day of the session when you have departed to travel to our meeting point.
Plan your transportation ahead and allow plenty of time to arrive at the location. You'll feel much more relaxed and ready to slay your boudoir session if you arrive a couple of minutes early.
And finally, take a couple of minutes to breathe and calm your nerves. We're here to have fun, so be sure to settle your emotions so you can fully enjoy your photo shoot.
Now, just let yourself go and own your sensuality. Feel sexy, have an open mind, and think outside the box. And above all, HAVE FUN!